We may earn commissions on purchases made through qualifying links, at no extra charge to you. For more information, check out our Disclaimer.
Threading a serger sewing machine has always been one of the most important topics in the sewist world. While operating a serger initially you will have to thread the machine before you can start working on your project. A self-threading serger helps you reduce this frustrating feature so that you can focus on your stitching.
A self-threading serger is not just for beginners but also saves a lot of time and mental peace for professionals. Some high-end automatic threading serger is a bit expensive but not all of them fall under that range. There are so many affordable sergers in the market that can automatically thread themselves.
How Self-Threading Sergers Work
Have you ever laid down the thread on a threading guide and flipped the switch to confirm it? if yes then the exact thing is done by the machine engine when they thread the lower loopers.
Now the complex and time-consuming work is to thread both the loopers. Modern sewing machines are equipped with jet air technology, which enables a user to finish this complex work without any hassle.
Pick your favorite serger thread and get on the machine to thread it fast.
You will find the fixed length of thread that you have to place in the opening for the machine to automate the process. The entire process will be mentioned in the serger manual for each brand which will make it even easier for you to thread your serger.
Types of Self-Threading Sergers
Self-threading machines are the easiest serger to thread and which is why you must understand the automation behind its option.
You will find two different types of self-threading sergers to choose from.
The most common type is the one that only threads lower loop, and they often cost cheaper because of being able to automate only one loop.
Another type of serger is able to thread both lower and upper loopers. You will read about Juki MO-1000 using Jet Air for the process that makes the threading process much easier.
Any good self-threading sergers let you insert a fixed length of the thread in the opening and the rest of the work is done by them.
Best Self-Threading Sergers 2022
Here are the detailed reviews of the best automatic threading serger available in the market.
Juki MO-1000 Serger – Push Button Jet Air Looper Threader
Sewing machines equipped with the Jet Air system are some of the best self-threading sergers. Juki MO comes with the power of air for effortless threading.
This MO-1000 is packed with most of the basic and advanced features which you will need in any machine. Apart from being an automatic threading machine, it also comes with automatic rolled hemming features which makes it easy for you to give a professional touch to your project.
It is a user-friendly sewing machine that can be used by both beginners and experts. Thanks to its 1500 stitch per minute speed you can finish your sewing in no matter of time.
Its performance is even compared with Babylock Evolution and some users find it better than that.
This Juki self-threading serger has many stitch options such as a 3-thread flatlock stitch, a 3-thread narrow overlock stitch, a 3-thread rolled hemstitch, lettuce-edge hemstitch, and the popular 2- 3- or 4- thread overlock options.
You get proper and smooth stitching thanks to its differential feed feature that accommodates a variety of fabric thicknesses and textures.
So why Juki Mo 1000 is the best automatic threading serger in the market?
Push-button Jet Air Automatic Threading
Very quiet operation
Super Fast: 1500 stitches per minute
Upper Looper Converter 2-/3- Thread Conversion
Adjustable Differential Feed: 0.7 mm to 2 mm ratio
Extended Thread Cutter
Retractable knife blade
Automatic rolled hemming
Easy to reach controls for smooth operation
Option to deactivate upper knife
Juki Jet-Air MO-1000 threads the looper with the push of a button. It eliminates the threading mistakes by sending threads through a tubular looper with the help of a jet-air system. In spite of being very fast, this serger is quiet.
Janome MyLock 634D Overlock Serger with Self Threading Lower Looper
Janome MyLock 634D became popular among sewists because of its self-threading lower looper abilities and also because of being a quiet serger.
How quiet this serger is?
Sergers are known for their fast speed so obviously, you can not expect it to be a pin-drop silent machine. However, let's say you are stitching in the corner of your room then it is not going to disturb anybody watching TV in the room itself.
Janome MyLock 634D is a 2, 3, or 4 thread serger which comes with a Lay-in thread tension dial and threading chart that makes it another excellent self-threading serger that will be by your side for a long time.
Beginners will find threading to be easy due to color-coded thread guides and also because of an easy lower looper threading system.
You can quickly switch to the rolled hemming option without changing the needle plate. Such features make your sewing machine to be versatile and can be used to complete multiple jobs in a short period of time.
Thanks to its adjustable foot pressure and Snap-On presser feet, you can easily control its 1300 stitch per minute speed.
I personally like this serger machine because of its performance and the bonus kit you get for no extra cost. The kit includes a beading attachment, blind stitch foot, 1/8″ pipping foot, and 3-pack needles (serger size 14).
Why Do We think 634D is the best Janome Self Threading Serger?
It is a 2, 3, or 4 thread serger
Color-coded thread guides
Very Fast: 1300 Stitch per minute
Lay-in thread tension dial
Adjustable stitch length 1mm to 5mm
Differential Feed Ratio: 0.5 to 2.25
Easily retractable upper knife
Adjustable cutting width 3.1mm to 7.3mm
Easily accessible lower looper guides
Lower looper pretension setting slider
Free Bonus Kit Included
Janome MyLock 643D machine can be used by both beginners and experts. Even if you are just learned how to sew on a sewing machine, you will find it easy to operate.
Juki MO-50E – Automatic Lower Looper Threader
Juki MO-50E is the quietest serger with self-threading abilities. Like other good sewing machines, it also comes with a color-coded guide that helps you finish the threading process very easily.
Another which makes it even more appealing to sewists is easy-to-switch features that allow you to switch from overlock to rolled hem without having to stop the machine.
Thanks to its compact size and steel-built frame, be assured that you have put your money into a machine that is going to last long.
If you "were" a beginner then you might like to replace your entry-level Brother serger with an MO-50E machine. Though brother sewing machines are good they don't come with automatic threading features.
Why JUKI MO-50E is another best self-threading serger?
3 or 4 Thread Serger
Lay-in tension
Built-in Rolled Hem
Adjustable calibrated knife
Easy to Store Due to Compact Size
Can work with a wide range of fabrics
Automatic Lower Looper Threader
Adjustable differential feed
Instructional DVD
This Juki MO-50E has metal parts which are much better than any plastic-built material for durability and strength. If you buy it, then for the same price, you get a minor upgrade from your previously owned serger and a better user experience
Baby Lock Eclipse DX Serger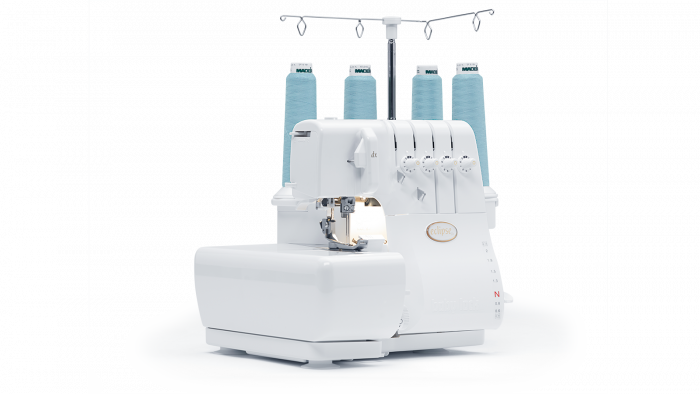 This all-new DX Baby Lock Serger is fast and smooth enough to generate very low noise. It features the patented Jet-Air one-touch automatic threading system.
Thanks to easy-to-operate push buttons and an easy-to-access control panel it helps sewists produce high-quality finished garments. With 1500 stitches per minute it helps you sew fast enabling you to complete your stitching on time.
BabyLock features a tubular looper system where threads run smoothly through protective tubes without the need for thread guides.
You can work on denim, leather, cotton, or polyester and make the best textile craft your imagination can make.
You Get These Stitch Systems:
4-thread overlock stitch with an integrated safety seam,
1 needle, 2- and 3-thread overlock,
Flatlock, and
Rolled hem stitches
Baby Lock also offers you variable stitch length, where the standard sitch width for the left needle is between 5mm to 7.5mm and for the right needle you get a 3mm to 5.5 mm width.
If you are someone who works more on rolled hem stitch then you might like its 3.5 mm width flexibility.
Why Baby Lock Eclipse DX is worth buying?
Fast Sewing: 1,500 stitches per minute
Multiple threads 2-3-4
Color-Coded guides for easy threading
Can work at night with its LED sewing light
Patented Air Jet Threading System
Adjustable Differential Feed: 2 to 1 ratio
Fabric Support System for balanced stitch patterns
Tubular looper system to avoid tangled threads
Baby Lock Eclipse DX is one of the most popular compact serger sewing machine which is capable of handling a wide variety of fabrics. However, though Baby Lock machines are considered to be loud, however, this unit is comparatively quieter.
Elna 664 Pro Overlocker
If you are looking for a mid-range portable serger then you can try Elna 664 Pro Overlocker. It is built with perfection and runs at a top speed of 1,300 stitches per minute.
Thanks to its quiet operation it became very popular among beginners.
Its 4-piece dog feed system is capable enough to help you sew through thick fabrics and can handle sensitive fabrics too. In addition to that, it also features adjustable cutting knives for smooth edges.
Many sewists like Elna serger because of its quiet operation and wide range of stitch operations.
Elna 664 comes with a pre-tension setting lever and it is one of the best self-threading sergers from this brand. However, I personally don't like it because of its limited applications.
Brands That Manufacture Self-Threading Serger
Though there are too many brands that make really good serger sewing machines, not all of them are able to introduce self-threading features.
In this review, our effort was to give you the most trusted sergers option to choose from. Because even top brands failed to simplify the complex process of threading.
Here are some of the top brands that build automatic threading sergers.
Juki: It is the most trusted brand when it comes to self-threading machines.
Janome: With the launch of MyLock 634D, Janome becomes the next popular sewing machine brand after JUKI, brother, and Baby Lock.
Baby Lock: Though BabyLock machines are expensive they definitely do the job right.
Brother: Though Brother sewing machines are top-rated, still they have not launched any really worth-the-money self-threading sergers. (We think they will in the future)
Elna: I have placed Elna below Brother only because of the Less Popularity in the brand. Otherwise, the Elna 664 PRO Overlocker can beat any brother serger when it comes to self-threading.
Self Threading Video Tutorial
Here is a Video Tutorial which will help you understand how self-threading works. In the Video, the Juki MO-1000 is used to show you the process.
Here is an excellent tutorial for you.
Also Read: 10 Best Sewing Machine with Automatic Needle Threader
Wrapping Up
Threading takes a lot of time and even after lots of practice and a color-coded guides we tend to make mistakes. This is why I think considering buying a self-threading serger.
Automation of this complex process is going to help you save a lot of time. You can set up your entire work layout quickly and are less worried while you stitch or roll hems.
Self-threading can be definitely time-saving but if you are a beginner I would recommend you to learn the manual threading process. Then go for the automatic things. Because when you combine experience with updated technology, you tend to sew the most creative dresses and produces superior finished garments.